Lifeline Batteries
LIFELINE BATTERIES FEATURE:
Call for Pricing : 407-340-6886 wayne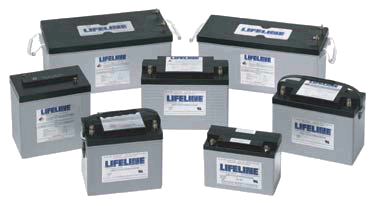 Aircraft class cell construction:

Lowers internal resistance for high repeated engine start current.
Withstands shock and vibration much better than flooded or gelled electrolyte designs.

Twice as many discharge/charge cycles as the leading gel battery (see chart).
Faster recharge; no current limitations with voltage regulated recharging.
Much better charge retention than flooded cell types, even at high ambient temperatures.
Full recharge after 30 days storage in a full discharge condition 77°F (25°C).
Sealed construction with absorbed electrolyte - no shipment restrictions; submersible without damage; install in any position; no need for watering; no corrosion on terminals.
Cell safety vent valves - pressure regulated, nonremovable.
Rugged, nonmarring polypropylene (copolymer) case/cover.
Safety - even during severe overcharge the LIFELINE AGM battery produces less than 2% hydrogen gas (4.1% is required for flammability in air).
FAA and Military approved; Manufactured to DOD military specifications;
Lifeline batteries are not restricted from shipment by air. Passes DOT 49 CFR Sec.173.159.
Lifeline 12 Volt AGM Deep Cycle Batteries